Best Vegan Protein Bars online in the UK
Here are some great vegan protein bars to throw in your lunchbox or gym bag!
Having a healthy snack handy when you get the munchies is essential, and one of the most popular snacks are protein bars. Not only are they a tasty treat, but they also are nutritional (if you buy the right ones that is).
Our list of vegan protein bars are readily available to buy online in the UK and often come in boxes of between 10 and 16 so you always have a bar handy when you need it. Take some to work, keep some in the car for when you want a quick bite on the go. A lot of the bars are also gluten free, contain minimal sugar and of course a great source of protein (oh and really tasty)
Anyway, let's get straight into our list of great vegan protein bars. In our opinion, the best vegan protein bars in the UK for 2021 are:
Reviews of the Best Vegan Protein Bars 2021
TRIBE Natural Plant Protein Bar – Choc Peanut – Vegan, Gluten & Dairy Free (16 x 50g)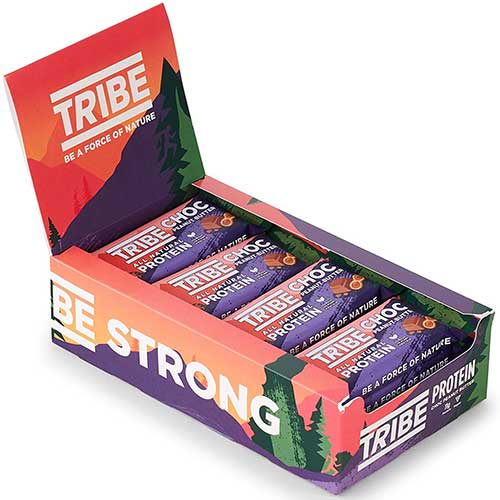 If you're looking for a great-tasting vegan energy bar, you need to look no further! Tribe Natural Plant Protein Bar in Choc Peanut provides performance and energy both for your next event. The delicious protein bar provides a speedy recovery and keeps you active for a long time.
Whether you're an explorer, cyclist, or ultra-runner, the healthy protein bar is vegan and gluten-free. Since the product is dairy-free, it also provides many health benefits to people with lactose intolerance and digestion issues. Moreover, it's delectable and offers a unique choc peanut flavor to boost your taste buds.
The Tribe Protein Bar encompasses 10g of natural plant-based protein and other nutritious ingredients to give you energy throughout the day. Hence, it's an optimal tasty macronutrient that enhances your performance and strengthens your immune system naturally.
The Tribe Natural Plant Protein Bar – Choc Peanut – Vegan, Gluten & Dairy Free weighs 880 grams at affordable rates. The unit possesses an efficient design with 100% natural and delicious to deliver outstanding performance along with the right nutrition. It contains nuts and 10g of natural vegan protein to provide smooth recovery to every sports enthusiast.
The Plant-based protein bar has no added preservatives, chemicals, or synthetic sweeteners. It's entirely safe to use as it contains zero gluten, soy, and even dairy. Therefore, the Tribe natural choc peanut protein bar is the ultimate source of protein for health-conscious people.
What we like…
Gluten-free, dairy-free, and vegan
100% natural plant-based protein
Great taste
What could be better…

Not suitable for people having a peanut allergy
BodyMe Organic Vegan Protein Bar | Raw Cacao Mint | 12 x 60g Vegan Protein Snack Bars | Gluten-Free | 16g Complete Protein | 3 Plant Proteins All Essential Amino Acids | High Protein Vegan Snacks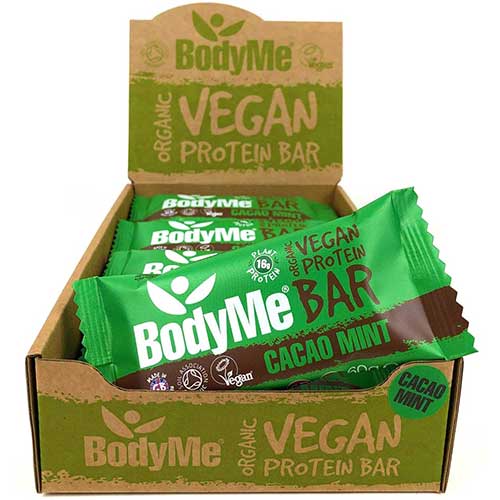 The BodyMe Raw Cacao Mint is one of the best organic vegan protein bars containing nutritious plant protein to provide the right nourishment to your body. This protein bar encompasses natural ingredients and amino acids to strengthen your muscles and overall body. It's the perfect source of protein to soothe your taste buds and fill your mind with peace.
The best part about this organic protein snack bar is that it's gluten-free, cold-pressed, bake-free, and GMO-free. Hence, it contains all the certified organic ingredients such as cacao, sea salt, brown rice protein, coconut oil, dates, and more to keep you healthy and happy.
The BodyMe organic vegan protein bar in raw cacao mint flavor includes 6g of natural protein while the overall item contains snack bars weighing around 60g. It's the perfect solution for sports fans who need energy and recovery both for enhanced performance. Moreover, it delivers freshness and clean ingredients to keep your body fit and healthy for prolonged hours.
The protein bar includes a 3-plant protein ratio such as hemp seed protein, pea protein, sprouted brown rice protein to make you feel fuller for a long time. The unit envelopes a soft chewy texture and zero preservatives for a super-digestible and tasty experience. The BodyMe organic vegan bar provides numerous benefits to athletics and fitness enthusiasts and keeps them hydrated even after hours of running and practice.
What we like…
Gluten-free and raw-processed
Organic and plant-based protein
Delectable and Nutritious
What could be better…
Not suitable for people having cashew allergy symptoms
RAW REVOLUTION – Glo Chocolate Chip Cookie Dough – 12 x 1.6 oz (46 g)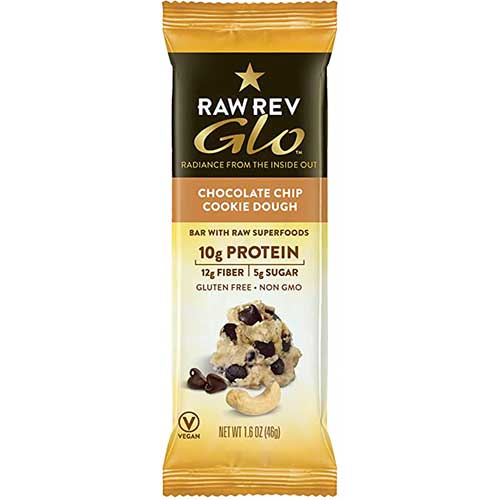 The Raw Revolution Glo chocolate chip cookie dough is the perfect protein bar for runners and cyclists. It contains the finest ingredients including soy, tree nuts, and coconuts to keep you fit and prepared for any sports event.
This product provides a delicious treat to every sports lover as each bar possesses fiber, protein, and only 5 grams of sugar. With the chocolate chip cookie dough, this protein bar adds a unique touch and perfection to your collection and satisfies your taste buds. So, if you're looking for a delicious and fibrous treat for quick energy, the Raw Revolution Glo chocolate chip cookie dough is your best bet.
Moreover, the unit weighs around 46 grams while the overall item weighs is 454 grams. The packaging box of the material contains 12 fiber bars each. It's an ideal treat and gift for your athletic family and friends as it's nutritious and delicious.
The Raw Revolution Glo Chocolate Chip Cookie Dough treat is also health-supportive and contains plant-based ingredients. It encompasses ethically-sourced chocolate to keep your taste buds alive and your body healthy with its every consumption. Since it's gluten-free and Non-GMO, it's very safe to use and eat without the hassle.
Its unique selling point is its moistness and crunchiness that provide an exciting experience to all the protein bars users. That's why it's a healthy source of protein that boosts your energy and performance at the same time.
What we like

Low sugar content
Nutritious and tasty
Gluten-free and GMO-free
What could be better…

The Primal Pantry Protein Bars – Mixed Berry Protein Bars – 15 x 55g – Dairy Free, Gluten Free, SOYA Free, Vegan Protein, Paleo, 12g of Plant Protein per bar, Hemp Protein- Qty 15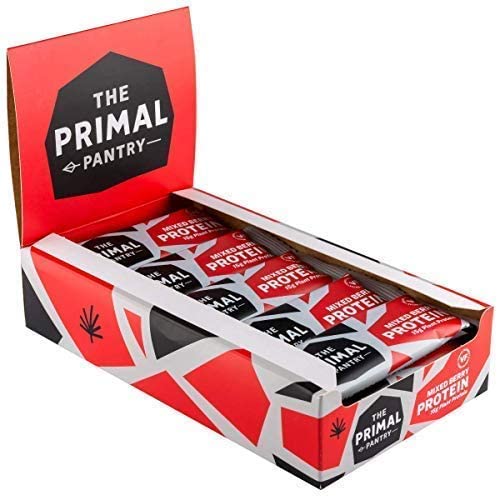 The Primal Pantry Mixed Berry Protein Bar has all the essential elements to indulge you and your athletic friends in a healthy lifestyle. It's 100% gluten-free, organic, plant-based, and vegan to keep you safe and healthy for days. It's an all-rounder nutritious treat and gift for all healthy eaters and fitness lovers.
Whether it's a pre-workout or post-workout, this product integrates efficient properties to give your body the required fuel for a smooth experience. It boosts your body for a pre-workout and provides faster recovery after a post-workout. It also has a mixed berry flavor offering a scrumptious taste to every user while easing the whole digestion process.
Hence, if you're searching for  the best plant-based vegan protein bars, you can rely on Primal Pantry protein bars to deliver the same effectiveness and taste. The overall units weigh 825 grams while the box includes 15 vegan protein bars with 12 grams of plant protein per bar. It's the best gift and treats for every fitness lover with a knack for delicious and healthy snacks.
Moreover, the Primal Pantry Protein Bars – Mixed Berry Protein Bar is dairy-free and soy-free to provide easy digestion. It includes hemp protein and other real-food ingredients to recover, refuel, and rebuild your muscles. The product offers several health benefits to the users who love to stay fit and steady with the right natural ingredients.
What we like…
Gluten-free, dairy-free, and soy-free
Suitable for Vegetarians
Plant-Based protein, such as hemp protein
What could be better…
Contains almonds (not suitable for people with almond allergy)
Vega 20g Protein Bar (12 Count) – Plant-Based Vegan Protein, Non-Dairy, Gluten-Free, Non-GMO (Salted Caramel)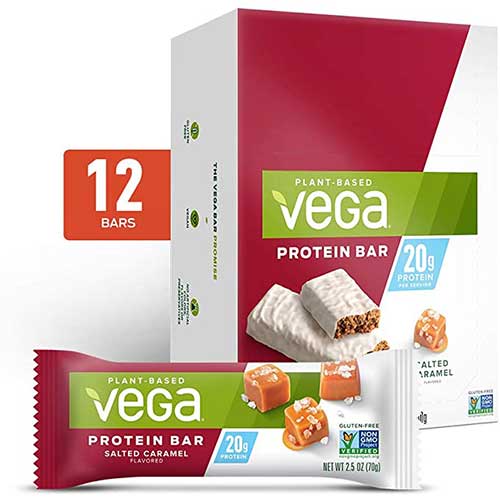 If you're willing to invest in a premium vegan protein bar, the Vega 20g protein bar is the best healthy option for you. The Vega plant-based protein bar provides deliciousness, nutrition, and energy at every bite with the inclusion of organic ingredients. It delivers freshness and contains ingredients, such as brown rice protein, sea salt, sunflower oil, pea protein, and more.
It's a plant-based protein bar encompassing almost 20 grams of protein and 3 grams of fiber from real food ingredients in every bar. The Vega protein bar is Non-GMO, gluten-free, and non-dairy as it's the ideal choice for every fitness enthusiast and meets all their energy needs.
The premium product weighs around 685 grams and includes 12 vegan protein bars in every box. For a cyclist or an ultra-runner, this product can provide efficiency and quick recovery before, during, and after any physical event. It's the best solution to gain energy while snacking on a full protein treat. That's why it comes in a salted caramel flavor to liven up the taste buds of every sports lover.
The Vega 20g Protein Bar also includes certified organic products like rice starch, vegetable glycerin, organic sugar, and tapioca syrup to provide the finest nourishment. It's useful to satisfy your hunger and also deliver the right energy to you at the right time. It's the ideal treat for vegetarians with a healthy mindset and a love for protein-based snacks.
What we like…
Plant-based protein
Vegan, Gluten-free, Dairy-Free, Non- GMO
Quality Taste
What could be better…
Expensive if you've got a limited budget
More info about Vegan Protein Bars
Choosing a great vegan protein bar based on your taste preference can be an overwhelming experience. You'll have to determine your budget and conduct thorough research of the market first to invest in the right product. If you're currently in the searching process for a delicious vegan protein bar, here's a guide to help you get a better understanding.
How Is It Made?
There are different types of vegan protein bars recipes. Most of them involve nuts, fiber from real food ingredients, and other high-quality ingredients. Home-made vegan protein bars are costly as they require a mixture of unique ingredients. At affordable prices, you can find the same protein bars online or at leading stores with better ingredients and taste. When you're purchasing them, go for a nutritious and organic vegan protein bar as they contain a natural process.
What are vegan protein bars made of?
Most vegan protein bars include almonds, peanuts, and multiple types of nuts. A fiber protein bar may include dairy products or soy while a gluten-free protein bar may include dairy-free ingredients. Some of the protein bars even include amino acids, coconut oil, hemp protein, and other organic or plant-based ingredients.
Here's a list of few ingredients to keep in mind prior to making a purchase:
Carbohydrates- it should be less than 20 grams per bar
Sugar- Avoid high fructose corn syrup or sucrose or even sugar alcohols like xylitol and maltitol
Protein- Search for pea proteins and plant-based proteins
Fiber- Choose three grams to stay full
Fats- Go for low saturated fats or no fats at all
Types of Vegan Protein Bars

Although you can find several types of vegan protein bars in the market, the popular ones include plant-based, fiber-based, mix nuts, chocolate, and salted caramel You can even make home-made vegan protein bars at home depending on the choice of flavors and ingredients. But you'll need to know the right recipe to try it out yourself.
Storage
Vegan protein bars provide easy storage options. You can store them in your refrigerator for weeks at home and they will still come out fresh and new for you. Just avoid storing them at room temperature as some of them can soften too much.
Frequently Asked Questions
Q. When is the best time to eat a protein bar
Protein bars are best eaten between meals as a snack or pre/post workout. It's best to consume a bar that has at least 20grams of protein. If you are eating a dedicated meal replacement bar then this should include more protein – at least 30grams is ideal. If you have a good exercise routine, it's better to consume them 2 hours later after your workout session as it can refuel your body and recover your muscles. However, some people may need more energy during the pre-workout phase. Therefore, you can eat your favorite vegan protein bar before the actual workout session too.
Q. Is it ok to eat a protein bar at night and before bed?
Yes, it's ok to eat a protein bar at any time of the day, it's what is in the bar that you should be more concerned about and also how many you eat. Certain foods are best not eaten late at night as they digest much slower.
It's entirely safe to consume a protein bar before bedtime. Even experts recommend snacking on a protein bar containing amino acids before you go to sleep. They maximize muscle gains and provide quick and repair and growth to your overall body. Hence, consuming them before bed is a good option for a quick recovery.
Q. Do protein bars make you fart?
They very well could be, it really depends on what ingredients are used in the bars. Lactose is a common contributor to flatulence and some bars will contain high levels. So to avoid too much gas, stear clear of high sugar content protein bars.
Q. What happens if you only eat protein bars?
Protein bars should only be eaten in addition to an existing balanced diet. Your body needs many more nutrients than what is included in protein bars. 
Q. Are Vegan Protein Bars good for your health?
The answer is Yes. Vegan protein bars are full of rich nutrients and may also contain plant-based ingredients. They make a healthy snack as they don't include high sugar content and harmful foods. Moreover, they are a better alternative for snacks as they make you stay fuller for a long time.
Q. How much protein bar is enough to consume for a day?
Vegan protein bars may contain highly-processed foods and other ingredients to boost your energy and provide quick recovery. That's why it's more than enough to eat one vegan protein bar a day. Although there's no evidence to prove it, health experts and fitness trainers still recommend not eating more than once a day.
Q. How effective are vegan protein bars for weight loss?
Most people consume vegan protein bars to lose weight effectively. But they don't follow the right technique and process for its consumption. To lose weight, it's essential to consume protein bars within 45 minutes of your post-workout. These protein bars minimize the impact of sore muscles after a heavy workout and rebuild your muscles' strength enabling you to lose weight. Also, they can be a perfect substitute for your meals as they are super easy to make and provide extra energy.
Q. Are vegan protein bars beneficial?
Vegan protein bars provide the required nutrition to strengthen your body tissues and stimulate their functions. It delivers all the essential ingredients to your muscles and organs so you can stay hydrated and fresh for a long time. Therefore, it's quite beneficial for you and your body.