Our pick of the BEST Vegan Protein Powder in the UK
Boost your protein levels with these great vegan protein powders!
Protein is crucial to any diet, especially a vegan diet, so one of the best ways to ensure you are getting the required amount is via protein powders – vegan protein powders!
There are loads and loads of powders on the market today made from all different types of ingredients. The most common are plant based and made from:
Pea Protein
Soy Protein
Rice Protein
Many companies will add additional ingredients for flavour and added nutritional value. It's not uncommon to see tea, berries, and seeds included in the protein recipes.
Anyway, let's get straight into our vegan protein comparison and reviews. In our opinion, the best vegan protein powders for 2023 are:
Best Vegan Protein Powder reviews 2023
PhD Smart Protein Plant, Vegan approved Plant-based protein Powder (Chocolate Cookie) 20 Servings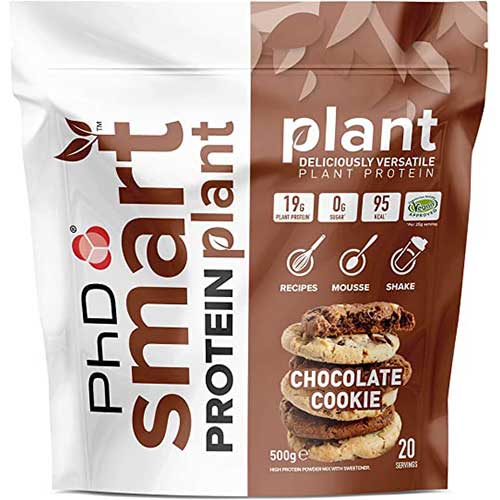 If you are looking for a delicious, nutritious and affordable vegan protein powder, look no further than PhD Smart Protein Plant. This product is one of the most deliciously versatile plants protein powder that a person can use in different formats. When needed, you can bake with it, add it into the indulgent, rich, handmade desserts, whip it into a tasty mousse or drink it as it is as per your convenience.
The PhD Smart Protein Plant is a multi-functional product that is suitable for both men and women. Anyone who wants to augment their protein intake, stay fit and healthy while doing what they thoroughly enjoy can consume it on a regular basis. This supplement is available in three delicious flavors including chocolate cookie, salted caramel, and Eton mess.
This best vegan protein powder for weight loss and supplement will surpass your taste-related expectations due to its high-quality constituents. It packs 20 grams of plant protein which is exceptionally low in sugar ( 1 gram per 25 gram serving). It contains only a hundred calories so a perfect macro-friendly option for you to add to your homemade recipes.
Some of its main ingredients are pea protein, fat-reduced cacao powder, soya protein, lactospore, natural flavor, zinc oxide, iron oxide, vitamin b6/12, and sweetener. It also contains sodium chloride and cereals containing peanuts and gluten.
SCI-MX Nutrition Pro V-Gain Protein Powder, Plant-Based, 2.2 kg, Chocolate, 45 Servings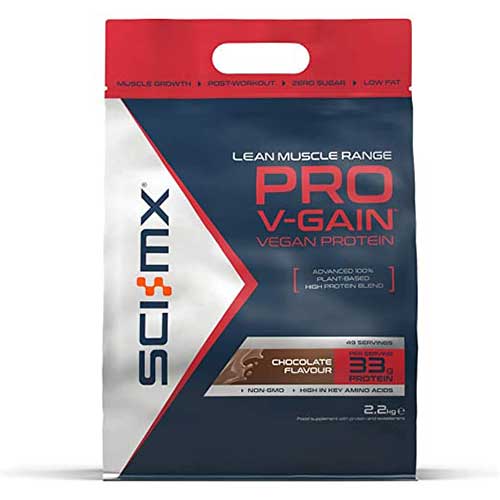 Another protein plant-based protein shakes in the market right now is SCI-MX Nutrition Pro V-Gain Protein Powder. With its premium blend of ingredients and good value for money, it is indeed an ideal choice for vegan product lovers. This vegan powder supplement is quite rich in protein content. It comprises of an advanced blend of pea, soy, and rice protein. Thanks to this composition, it is also best for people who don't want to consume dairy-based supplements during their fitness regime.
It is an amazing pre-workout supplement that significantly improves energy production in the body. A lot of people consider it as the best product to overcome anti-workout fatigue due to its high vitamin B6 and magnesium content. Its high protein content facilitates the growth of new muscle mass and helps people maintain their obtainable lean muscle mass.
Apart from zinc and magnesium minerals, the SCI-MX Nutrition Pro V-Gain Protein Powder features a high concentration of amino acids. Large amounts of BCAAs, L-glycine, and L-arginine are great for those following a vegan lifestyle. Some of the most prominent ingredients of this plant-based protein powder are soy/pea/rice protein, oat bran, quinoa, bucket wheat, fat-reduced cacao powder, and guar gum.
One scoop serving (45-gram serving) contains zero sugar but has 33g of protein, 3.6g carbs, 2.8g fiber, and 1.1g of fat.
Pros
Dairy-free product
No sugar formula
A high concentration of protein
Best for anti-workout fatigue
Cons
Limited amount of flavors in the market
Vivo Life Perform – Raw Vegan Protein Powder Pea & Hemp Blend with BCAA – Gluten & Soy Free Shake (Salted Maca Caramel, L)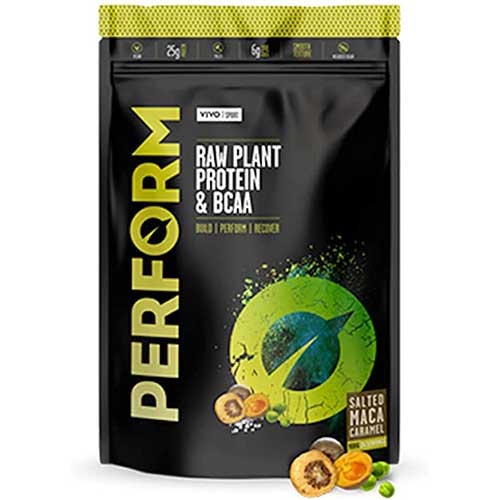 People who are looking for a flagship product in the world of vegan protein powder must consider investing their money in Vivo Life Perform. This best-tasting vegan protein powder is available in two different flavors of vegan protein powders to choose from, both of which are completely vegan and sustainable products to make influences in the vegan health space.
One serving (one scoop) of Vivo Life Perform has 25g of plant-based protein. Moreover, it has 6g of BCAAs which is what every protein supplement user looks for in their desired product. There are no artificial flavors, sweeteners, binders, fillers, or preservatives.
Each flavor of the product has its own unique taste and nutritional profile. Thanks to the presence of the most high-quality and wholesome ingredients, the Vivo Life Perform is a well-balanced protein powder nutritionally. It has two plant-based proteins mixed together with another vegan BCAA blend (L-Valine, L-Leucine, and L-Isoleucine). Moreover, it has pink Himalayan salt, raw cacao powder, stevia extract to give natural sweetness, and turmeric extract.
38g scoop of Vivo Life Perform will give you 142Kcal, 3.5g of carbohydrates, 2.1g of fat, and 25g of protein. Apart from this, you will receive 2.7g fibre and some amount of minerals to facilities your body's recovery. It has all the pointers of being a high-quality vegan protein powder and is surely a great choice for success on a fitness journey.
Pros
Enhanced with digestive enzymes
Silky smooth texture
Delicious taste
100% natural ingredients
Cons
Overriding taste for some buyers
Nutrisport 90+ Protein Vegan Unflavoured 908g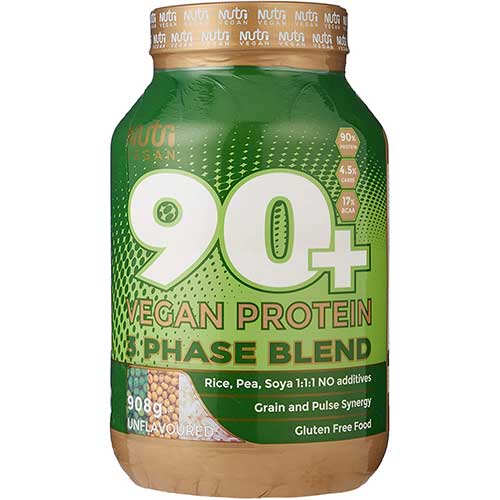 Nutrisport 90+ is available in 5 different flavors where four of which are a reliable staple of chocolate, banana, strawberry, and vanilla and the last one is raspberry. This offering is pretty standard and is roe than enough for people who get tired of consuming the same supplements over and over again. The texture is smooth and in terms of flavor, you are sure to get a decent taste despite adding one or two scoops of powder in the shaker.
A 70g serving of Nutrisport 90+will give you 49g of protein alongside 11.2g of carbs and 187Kcal energy. Its four-phase protein blend comes from a mixture of under-natured CFM soya isolate, whey protein isolate, rice protein isolate, and under-natured micellar casein. All these components used by Nutrisport 90+are rich in protein and highly digestible so the best protein source for every high-end product out there.
In general, Nutrisport 90+ is low fat and low sugar powder that is free from all sorts of animal products and cholesterol. It has all the essential, non-essential, and branched-chain amino acids your body needs to stay healthy and fit. For best results, add four heaped teaspoons of Nutrisport 90+ to one pint of water and run through a shaker or blender to make the perfect, healthy smoothie. You can even replace this best vegan protein powder for one meal per day or use it as an additional protein source before sleeping and upon waking.
Pros
Pure soy/rice and pea protein
Free of animal byproducts
High-quality ingredients
Low in carbohydrates and fats
Cons
Too thick for some buyers
Super U Muscle Protein, 500g – Organic Vegan Protein Powder. Great tasting Plant-Based Protein with No Sweeteners, Flavourings or Fillers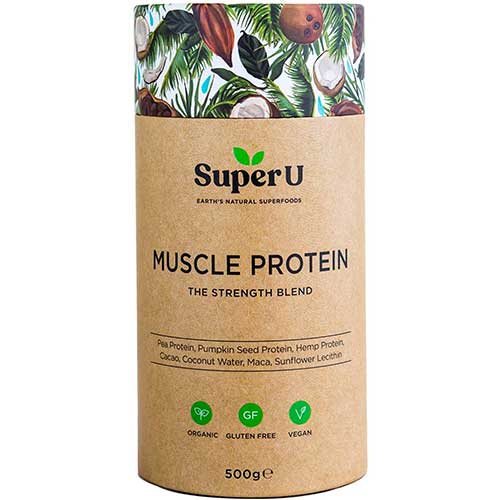 Super U is a leading name in the world of vegan protein powder with an aim to make superfoods more readily available for buyers. They source the most nutrient-rich ingredients from all around the world to make amazing and effective blends so their users can enjoy unlimited health benefits.
The Super U Muscle Protein is a unique mixture of hemp, pea, and pumpkin seed protein. It features freeze-dried coconut water, raw cacao, and sunflower lecithin. All these components work in sync with each other to give you a smooth, balanced, and nutrition-rich plant protein. The best thing about Super U Muscle Protein is that it is devoid of any artificial sweeteners, fillers, and flavorings.
The pea protein in the formulation has all the nine essential amino acids to make this product a wholesome source of protein. It delivers a good amount of BCAAs in the body that are known to promote recovery and improve muscle growth. Hemp protein is to provides quality protein and a good dose of fiber, minerals, vitamins, and anti-oxidants.
Pumpkin seeds are for healthy fats plus they are high in protein and essential amino acids. Raw cacao is very nutritious, rich in essential minerals flavonoids, and antioxidants. This best vegan protein powder 2021 uses the purest form of cacao to deliver a subtle dark chocolate flavor. Lastly, the coconut water delivers delicate and exotic flavors. It also offers essential minerals and vitamins to the body.
Pros
Plant-based product
Gluten-free
Rich in vitamins and minerals
High protein content
Cons
No sample pouches available
A Comprehensive Guide to Choosing the Best Vegan Protein Powder
With hundreds and thousands of products available out there, it can be a bit overwhelming to choose a single product. In this buying guide, we will discuss some of the most important factors, features, and parameters every potential buyer must consider before making a final choice.
How It Is Made
The most commonly available vegan protein powders are either made of soy/pea or brown rice-based plants.
Soy protein powders are made of soy protein isolates. More fats and carbohydrates are removed leaving only 95% of the protein in the formulation. Protein count may be different with different brands but most of them have about 20g of protein per serving.
Pea protein powder is from split pea legume that is high in essential amino acids. The branched-chain amino acids BCAAs in the powder promote muscle protein synthesis and reduces muscular degeneration. These powders typically consist of 15g of protein per serving.
People with allergies can opt for brown rice protein powders. With 6g of protein per serving, it is as effective as any other plant-based option out there.
What Is It Made Of
Never assume that if you are buying a plant-based protein, it will have every ingredient in its purest form. Before making a final decision about any product, make sure you take a close look at the main ingredients of the formulation. Many protein powders in the market have additives in them such as artificial sweeteners, flavorings, and stabilizers. Even though there is nothing with such ingredients, they might taste bad and can cause bloating or gastric issues.
Always go for unsweetened powders and make them sweet by adding them into your favorite fruit smoothies, baked items, and pancake mixes.
Types of Vegan Protein Powder
There are many types of vegan powders available in the market where the most common ones are:
Whey Protein Powder
These are water-soluble milk proteins with all the amino acids that your body needs for proper functioning and growth of body organs.
Casein Protein Powder
This type of protein powder is rich in glutamine that facilitates fast recovery of muscles, especially after a heavy workout session.
Soy Protein Powder
It is the healthiest and most famous protein source of all time. Soy is a great alternative for people who are allergic to something or do not wish to take n dairy products in the diet.
Hemp Protein Powder
They are complete proteins with a good amount of fatty acids in them.
Protein Powder Storage
Make sure that the protein powder you are purchasing comes in a big plastic jar that is easy to open and seal.  If the chosen product comes in one,  you can easily keep the powder in it after opening if it has a known re-sealable packaging transfer it to a new container to maintain its effectiveness and long ability.
Vegan Protein Powder FAQ's
1. How Long Can I Keep My Vegan Protein Powder Once Opened?
A good quality vegan protein powder should last for at least three to six months after opening the container.    Opening the package increases the chances of bacteria and moisture accumulation within the powder as long as the water does not get into the container,  the powder is safe to consume.
2. Is Vegan Protein Powder Worth It?
To put it in simple words,  vegan protein is as effective as any other supplement in the market.  They have a positive impact on body composition and exercise performance.  Use of a high-quality product,  you can gain muscle mass,  overall body strength and improve your fitness performance.
3. What Are The Benefits Of Using Protein Powders?
You can choose a vegan based protein powder over any  typical product due to the following benefits:
These products are dairy-free with all the protein you need to build muscle mass despite being lactose intolerant.
They have the most high-quality and powerful ingredients to support different parts of the body.
With regular use, you can meet your weight loss goals and feel fuller for longer periods. Plus the added ingredients expand in your stomach and prevent you from feeling hungry for many hours.
Some people use them as a meal replacement. With the right blend of ingredients, they are safe to consume as a full meal with multiple nutrients and protein sources.